Do the Durga Puja dates drive fashion success?
Durga Puja 2021 starts from Monday 11 October and continues till Friday, 15 October. This 5 day-long celebration is an awesome series of events that revelers across the world enjoy!
The actual dates of Durga Puja may not matter, but what matters is that how many weekdays are in these days. Depending upon whether a particular day is a weekday or a weekend, your celebration style will change. So, if you wear a super gorgeous saree and go to office, surely you would make a mistake.
However, in this article, we will discuss some "not so obvious" mistakes.
Why do fashion mistakes happen?
Recently Kim K wore a black dress that drew flak across the world. While Kim is an eminent trendsetter with more than 250 million (25 crores) Instagram followers across the globe, yet one small step made the critics jump off their seats.
You are, perhaps, not Kim and nor do you have a team of fashion advisors. You make your own style decisions every time.
Sometimes you are in a rush and you put on what comes closest to your hand, but on most of the other occasions, you choose your style consciously.
No wonder you rock most of the time, but did you ever think that you have perhaps seen someone making any of these mistakes during Durga Puja? I did and hence, I tell you what I think is better.
Here is the list of mistakes, but go slow, don't just self-confirm
You can skim through the below mistakes and self-confirm that you never did it. However, please think slowly, will you never do it? You may, right? So, think carefully and understand the fundamentals before you do tick-in-the-box!
Wearing only ethnic dresses on puja days
Ethnic dresses are great! More than any other country in the world, Indian ethnic dresses are more versatile, colourful and a perfect fit for every occasion and mood.
Durga Puja is, undoubtedly, a celebration that started several centuries ago. Hence, it makes perfect sense to wear Indian ethnic dresses. But, not all the time and all the days!
You are a versatile person of the modern era. Your attitude, language, and habits will always show what is the latest and greatest in your world. If you wear ethnic dresses all the celebration days, you will appear to have a self-imposed burden that doesn't allow your personality to flow naturally.
One more thing. Isn't it a bit stereotype when you wear ethnic dress on all the days? Do allow people to observe the style contrast when they see you!
My practical advice
You can make a modern, yet simple, short Kurti with pure handloom cotton material. This is pure ethnic when you wear a salwar with it, but it will be super modern if you wear it on top of a deep blue pair of jeans. And, don't forget to wear a smartwatch, this will make the cherry on top!
You can also try fusion fashion if you wish.
Not experimenting at all
Life is an adventure. Who said this? Helen Keller said this synonymously. We, perhaps, have only one life (at least we can remember only one life in our lifetime). And our life deserves some experimentation and thrill!
While I don't recommend bungee jumping during Puja, not at all. But if you chain yourself with traditional fashion thought processes then it is a miss.
Many people did it that way in Durga Puja 2020 and earlier, but you can easily stand out by experimenting this year in 2021. Relying on the old proven styles can be safe, but you are much smarter to do a lot better than that. After all, it is your life!
If you at all follow my practical advice, do the below
Relax and think about something new. Don't worry nothing will break or fall apart!
Surely, you would need face masks in 2021. What about a matching face mask that is styled with lace? Something like this is not usually heard of. If you wear glasses, please make sure, you will wear something small so that your face is not fully covered.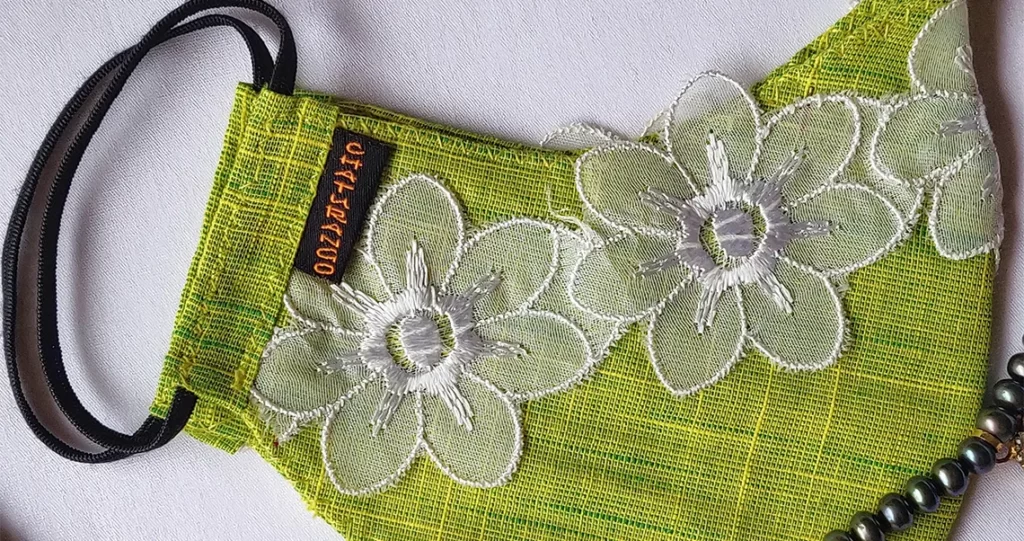 Since your eyes do most of the talking, make sure you highlight your eyes with some homemade tricks.
This is a secret (read the details)
Fashion during Durga Puja is NOT all about dresses or shoes or gadgets. Durga puja is a festival that immensely highlights life, relationship, companionship, and commitments. This is very subtle but most important!
Not sure if you knew this, but if someone organises Durga Puja once, he or she needs to do that for 3 successive years. This is a commitment that makes a difference.
A festival like this deserves more from you. You need to connect with your family, your relatives, your friends, and so on.
If you don't make this connection you will be actually talking to yourself during the puja and that can dampen your mood. A damp mood is much worse than a damp cloth and no fashion advisor can save you from this disaster.
Again, my 2 cents here!
If you don't have the nearest and dearest ones with you, not to worry. You can always make friends during Durga Puja.
If you google it, you will find some Durga Puja events near you even if you are in Zambia, let alone other countries like India, the USA, or UK. If you visit any of the puja locations, you will find people offering prayers.
You will also find many non-Hindus attending this festival and even organising it. So, you have no excuses to break any barrier!
This is a great opportunity to connect with someone you never met earlier. You don't need to visit their house or invite them home; you can have a full day chat with them right at the puja event. Did I mention every Durga Puja place will have plenty of tasty food?
In short, get along with people and their culture without any hesitation and that is how you glow!
Uncontrolled food and beverage during the festival
The headline says a lot. Indeed, this one thing can fully ruin your days and nights during this super popular festival. In my childhood, I used to focus mainly on this and laid on bed sick for days due to an overdose of tasty food.
Bengalis, the main organisers of Durga Puja, are completely outrageous when it comes to food. The Bengali cuisine has plenty of recipes (even many Bengalis don't know it all!) and on top of that, they know the recipes of every other civilisation.
During Durga Puja, you will find food stalls have mushroomed in the major cities. If not everywhere, you will see plenty near the puja places. You will find Chinese, Japanese, Tibetan, Continental, Mexican, Spanish, and of course all Indian recipes.
While hearing all this can be mouthwatering, but remember this will fill your stomach in seconds when you visit the food stalls. And, trust me, you have only one stomach.
When your stomach is full, you feel lazy and that shows up on your face and body language. If you add beverages on top of it, all you will crave is a nice cozy bed and nothing else.
Fashion needs energy. Your body should be energised and so should be your mind.
How to get the best of both food and fashion? Practical advice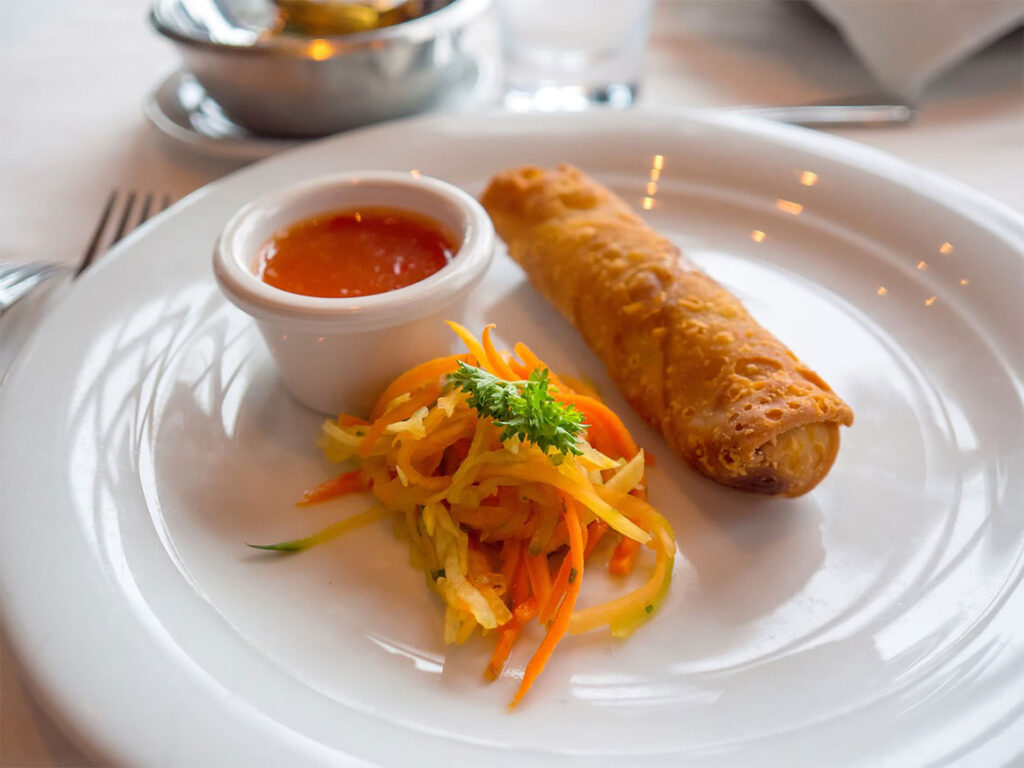 If you are a foodie, you will like this. Durga Puja food stalls start a few days before the occasion and continue for few days even after the occasion. So you have plenty of time to enjoy and not to rush.
Visit renowned restaurants and if possible, try more expensive ones. This is slightly counterintuitive, but this is a piece of practical advice. Renowned and expensive restaurants will be less crowded and food will more hygienic. You will be safer there.
However, you cannot ignore the street food stalls at all. There would be more varieties there. But here you need to be choosy. Go slow and spread them out over 10-15 days.
Moreover, make sure you detoxicate your stomach with home remedies, like lemon water, and have good night's sleep. This will keep you on your feet for all 5 days of the festival with full energy. While many people will become sluggish, you will rock!
Don't wear something that will make you look worn out
When I was a kid, I wanted to be older for many reasons. You perhaps did the same. But, this doesn't work well for fashion as with age we are worn out and look old.
Age is not a constraint or a bad thing. We mature with age, so it is a good thing. However, it is a "thing" that needs to be managed well.
In straightforward words, your fashion shines when your true personality reflects in your overall appearance. If you look slightly less worn out (by 5-10 years) you will feel very confident. Trust me. Moreover, if you look younger you may feel happier.
Your dresses and accessories need to help your personality and not just hang from your shoulders. If you are confident about yourself, you will carry yourself better. Not doing this is a punishment to yourself and to others who love you to look confident.
In other words, to remain fashionable, you need to be dynamic, energetic, and confident that will shed light on others around you.
How to do that practically
It may sound cliche, but keep yourself fit. This is minimum.
Try something new for your wardrobe. For instance, did you ever think how printed cambric fabric can make you look a lot younger? This is a very uncommon but beautiful fabric that shows how open-minded you are to try new things in life.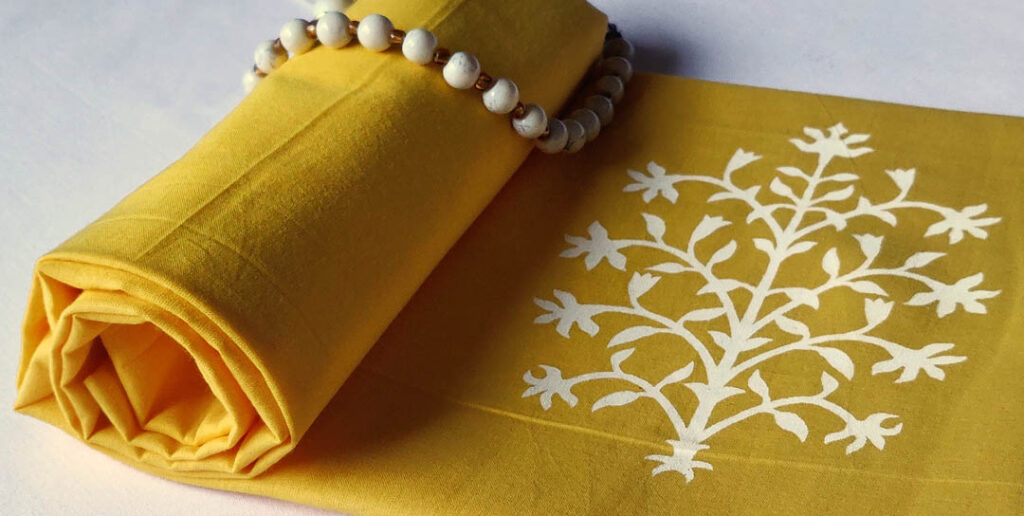 One more thing to do. You may use expensive sling bags or handbags for your use. But, try a handmade fabric sling bag or a handmade clutch purse instead of a factory-made. When you choose a handmade fabric bag you embrace a new world of styling.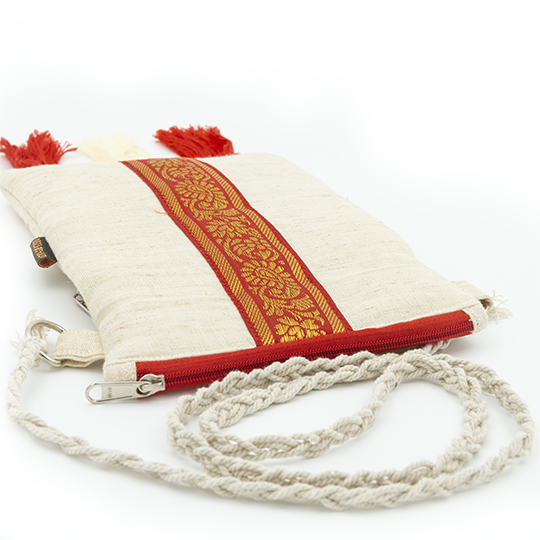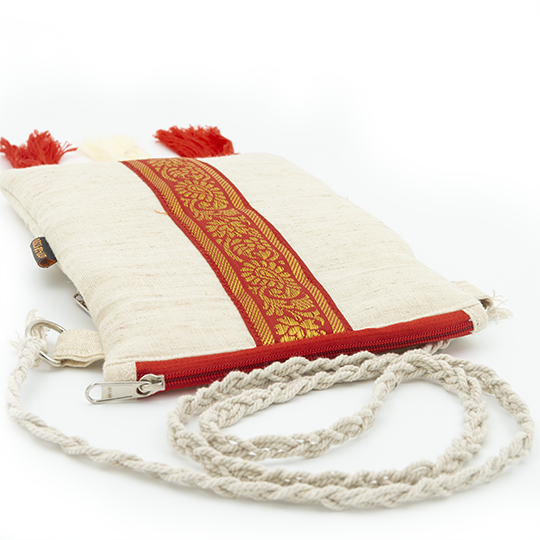 Last, but not least, always wear a smile on your face when you meet someone. Always talk freely and confidently and make your presence felt.
Wish 2021 be the best Durga Puja so far in your life
We all are going through an unprecedented time. We will not elaborate on that here, but it is worth being conscious about that.
Honestly, you have many priorities in life which are more important than Durga Puja or any other festival, let alone any fashion parade.
The world around you needs you to be safe and protected. Further, they deserve your empathy and care when they need it. Hence, you can give the best experience of your humanity to others to make this Durga Puja a most memorable one during a very challenging time.
Comment below if you think there are other mistakes too and how to avoid them.