Looking beautiful is your choice. Days are gone when people judged us by our beauty and that drove us to dress in the way that appeased people. In current days, it is our choice to celebrate our own inner and outer beauty.
You are awesome and you know it. You are beautiful both inside and outside and that makes you awesome. During your last winter or the winter before, you must have noticed that winter is pretty different than other seasons because you need to take out a completely different set of clothes than any other season.
Your wardrobe or your trunk gets a fresh new requisition during winter. You searched for the best dress that you wore last time. Then you discover another one that you did not think would look so nice but now you feel it is a better choice. And this continues to happen for some more days before you actually make up your mind about what you will wear during winter.
But, this year, before you make up your mind, look at your choices in a completely new way. There are, perhaps, a few easy things that you didn't consider and this article will give your brain a gentle nudge. Who knows?
A neck warmer is the perfect way to look beautiful, but how to wear it perfectly?
While reading this far, if you are wondering is it really worth thinking about dresses or about how to look beautiful? Well, think it the way Rachel Zoe described it.
Style is a way to say who you are without having to speak

Rachel Zoe
To make your statement about who you are, try something that every other woman wouldn't think. A neck warmer would keep you warm during winter and would make you look so different in the ocean of people. It will make a statement of your inner beauty that others will hear without you having to speak.
Don't have one? Buy a smart neck warmer online from the comfort of your home. There are various options that you can choose your neck warmers from.
A neck-warmer comes with a few hidden buttons and velcro straps. When you wear this, you will find that this is well thought out and very convenient. You will also find that the neck-warmer fits really well around your neck and doesn't move much without touching.
How to make up when you wear a neck warmer?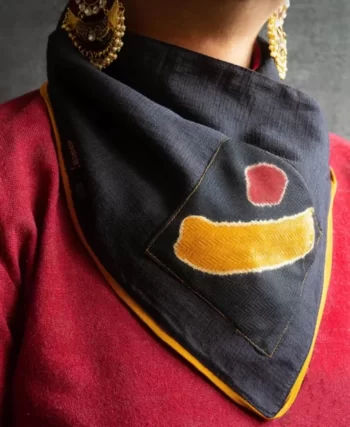 In modern days, make-up doesn't necessarily mean a lot of chemicals on the skin to make someone look beautiful. Apply moisturiser as it is winter and sunscreen to protect your skin from sunburn.
Your neck warmer really sets the mood of your style and you just need to complement it with a few pieces of jewelry.
Make sure you wear a top that has a colour contrast with your neck warmer. That's all about your make up that you will need to look beautiful.
Be sure that you also take make up tips from great sources.
A turtle neck pullover is your friend in need, just note this first
Winter is chilling and at times you want to wear something in one piece that keeps both your body and neck warm. Head on to your wardrobe and take out your turtle neck pullover. It is your friend in need wherever you go and you will surely be a beauty on your own terms!
Here is the secret of a turtle neck pullover. Some of the styles cover your neck until your jawline, but some of the styles cover only a part of your neck. Also, some turtle neck pullovers come sleeveless or short-sleeved and some are full-sleeved.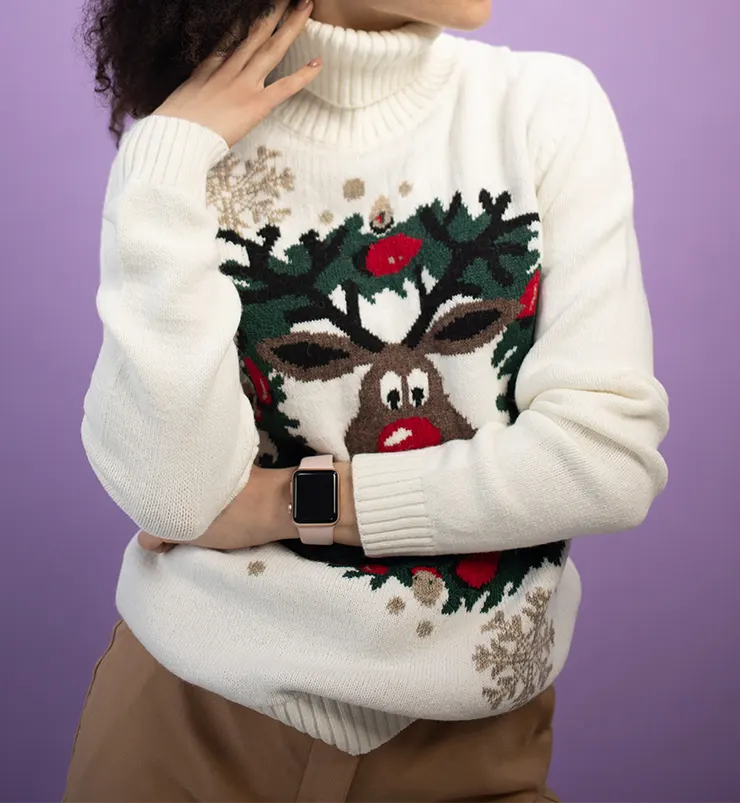 Make sure you go for the full sleeve pullovers that cover until your jawline. There is no point in looking gorgeous if you are not fully covered in winter.
At this point, I will share one piece of advice with you. Wear the colour and design that you like and enjoy. Don't think about your skin colour while choosing your winter wear. Your skin colour is your true friend and one of the most beautiful parts of your body.
What are the places you can buy a turtle neck pullover from? It is actually easy to find. There are many online sites and marketplaces. Online places are like ajio.com, myntra.com are just a couple of names.
If you visit a physical store, try Phoenix Market City in Chennai, South City Mall in Kolkata, DLF City Centre Mall in Delhi, Phoenix Market City in Mumbai. Find many other shopping malls across India.
Make up tips
Which make up will go with this dress? As you may have guessed already that I am not a big fan of colourful make-up all the time.
But I also change my mind. It is winter and people will appreciate you if you raise the temperature. Wear lipstick that suits your skin and of course, if you like to wear one. A simple lipstick makes your lip lines look precise and beautiful!
The shawl is one of the most fantastic dresses that reveal your beauty
A shawl is probably the most popular winter wear in India. Irrespective of gender, religion, and location the shawl has overwhelmed everyone. It is super convenient and easy to wear. Most importantly, it is, perhaps, one of the rarest categories which we can call "One size fits all".
For those who are still wondering what is a shawl, let me describe it in a few words. It is a generously large single-piece warm cloth that you can easily wrap yourself up around yourself. You can easily cover your head, neck, and upper part of the body. What's more? If you intend to sleep, you can convert it into a full-body cover!
What I like about a shawl is slightly more sensitive. Apart from wrapping myself, I can wrap my loved ones in the same shawl. That's always warmer.
If you have started to think that a shawl is only about great utility, allow me to prove you wrong. A shawl can be a great piece of art and a brilliant costume that will make you look beautiful. Indian artisans have spent years mastering this masterpiece.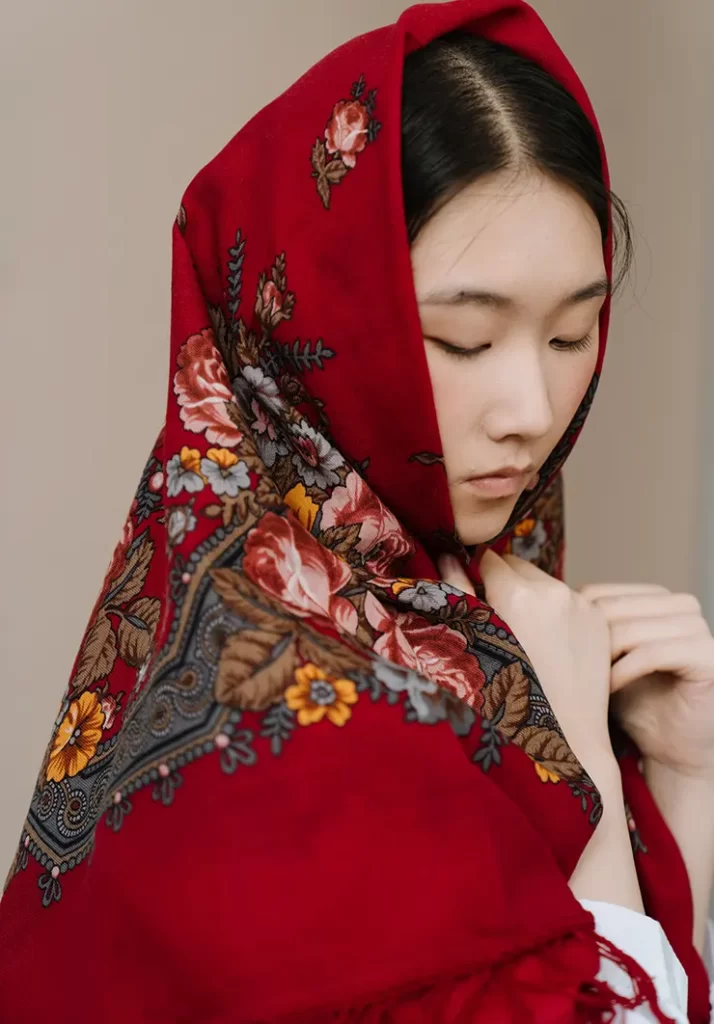 Kashmiri shawls are the most popular not only in India but across the world. However, there are other shawls that you will find equally beautiful, such as, Pashmina, Stole, Shalli, etc. Find more about shawls on Wikipedia.
Where to buy a shawl from? Head to "Kashmir Emporium" in your city and that is the best place to buy great shawls. If there is no Kashmir Emporium in your city, try online stores.
How easy it is to do make-up when you wear a shawl?
You are free to choose any make-up that makes you look beautiful. But stay away from anything powdery or likely to come off the skin if touched. This can damage your beautiful shawl.
If your shawl is gorgeous then you shouldn't look pale. Apply highlighters on your face so that your face stands out from the beautiful deck of the shawl.
Finally, the cliché again, keep your skin moisturised, as winter can quickly dry your skin.
What is a shrug and how to wear it?
Imagine a shawl that comes with sleeves. That is a shrug.
A shrug can have long or short sleeves. Someone, who invented this dress, thought a dress would be more convenient if sleeves are married with a shawl. I think this limits the utility of a shawl, in particular, the one I like about a shawl most, that is, being cozy with someone.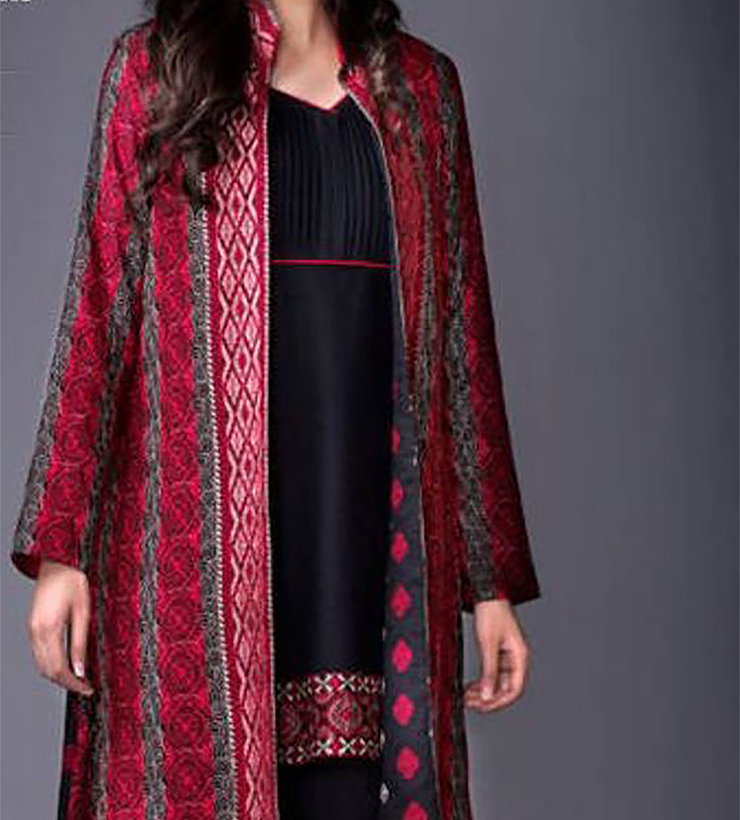 However, I am not the only person in this world that needs to be satisfied. A woman looks awesomely beautiful in a shrug. Watch these clips where some beautiful women like you are rocking in a Shrug.
You will find plenty of options on shrugs at Indiamart, Amazon, and many other online stores. So, it is just a matter of picking up your phone and order one!
Don't worry, it is easy to do your makeup
It is simple to do makeup and look beautiful, provided you are wearing a shrug. Wear prominent lipstick as your dress is likely to be bright. Apply eyeliner to make your eyes more prominent.
Doing makeup is NOT a must. However, I recommend it as this gives you a lot of confidence to carry what you wear. But feel free to ignore them. If minimalist makeup interests you, head to this guide.
A Poncho is the dark horse in certain situations
A poncho is originally a traditional Mexican dress that hit worldwide. It is a single large sheet of fabric with an opening in the center, for the head. It is a great winterwear, as the fabric used for making a poncho is generally heat-insulated. You will also find ponchos made of wool.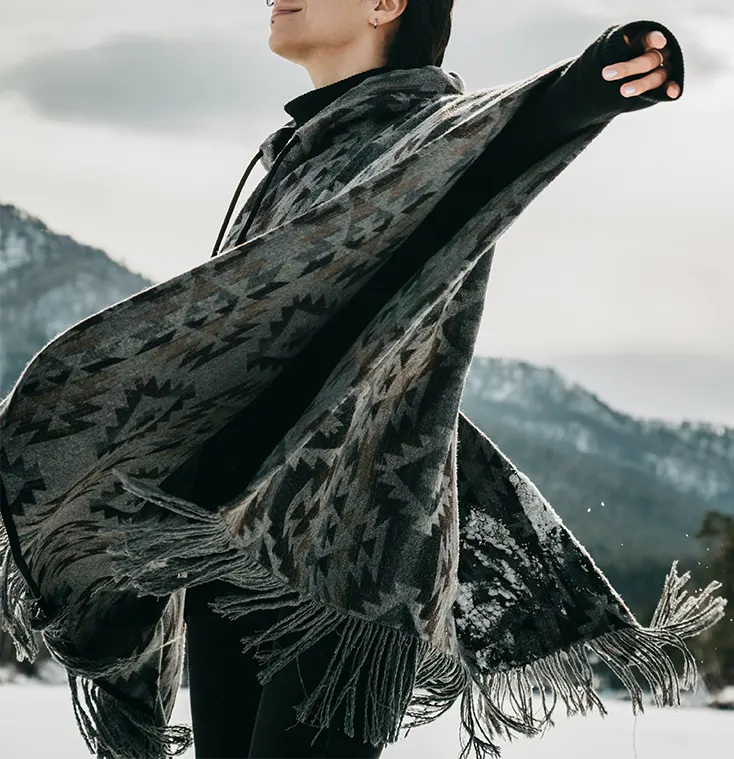 If you are not a Red Indian or Hispanic, don't worry, you can still wear a poncho. If you are looking for a hands-free style that has both beauty and sturdiness, head for a poncho with confidence.
The artisans feel pride while making a poncho as they get plenty of opportunities to show their artistry on a single sheet of cloth.
A poncho, however, has large openings. Hence, you need to be careful, particularly when your small kids wear them.
Why do I think a poncho is a dark horse? Because of its simplicity and usefulness. You don't need to spend much time and thought to decide which top will you wear. As such, if you wear a beautiful poncho you will naturally look beautiful.
Where to buy a poncho from? Why not you make one yourself? Here are some tips to make one, it is easy.
Brilliant make-up that will go with a poncho
If you want a modern and urban look, wear something simple. Make sure your skin is well moisturised. Gloss your lips with a blue-based red tone. Feel free to highlight your eyes with eye makeup that you are comfortable with.
One important thing is when you wear a poncho your hands are largely under the cover, but your fingers will be out. So, you can further experiment with your nails. You have a lot of options to play with your nails if you read this.
It is not over, not just yet. Up for a few bonus suggestions?
You can easily look beautiful irrespective of what you wear. Your beauty is what you carry inside and your attire just gives you appropriate company. Hence, I would not like to limit you to only the above options. Honestly, the below options are in no way ignorable.
Phiran
Did you know this style was introduced by Akbar the Great? It is a loose-fit long dress, longer than a regular poncho. Both men and women can wear it.
Phiran originated in Kashmir, which is a cold place. So you can rely on this dress that it will cover you up perfectly during winter. The artisans use both thick cotton fabrics and wool to make Phiran. Woolen Phirans are more useful during the ultimate winter seasons.
A great place to buy a Phiran is at Amazon.in where you will get numerous options to buy a Kashmiri Phiran.
Stole
A stole has some similarities to a shawl but is very different too. A stole is generally used for light winter. It serves well at that time. It is thinner than a shawl and you can cover your neck, body, and also your face (if you like) even in autumn.
A stole can also be very street-smart to make you look beautiful and stylish. The smaller size of the stole helps you manage it more easily. You can easily put your stole inside your bag.
Buy stoles at limeroad.com, Indiamart.com, and Amazon.in for aplenty options.
Scarf
A scarf is not a substitute for any of the above items I mentioned. It is essentially a beauty accessory that you can carry along with you.
The biggest advantage of a scarf is its colourful design. You will find beautifully designed scarves that you add to your other costumes.
You will easily look beautiful in a scarf that you can make yourself. Here is a guide to making a beautiful scarf.
Conclusion
It really can not conclude so easily. How you can look beautiful is an art that only you can master. Others can only salute your style.
However, how you dress matters for your health and your confidence, which both together make you look beautiful all winter long.
Do let me know below what are you planning to dress this winter. Your simplest ideas can be great tips to me and my other readers!