If you are about 40 or even above, cheer up! You make your own thoughts and opinions about what is charming. Your views can be different from others, and you have solid reasons for that.
While some random beauty standards try to define inner beauty, but your true beauty is what you carry all along inside you! Personality, style and confidence grow with age and maturity.
And with the growing age, why not be confident and stylish altogether. You might over-think about dressing like a very young person, and that is where I would like to share my thoughts.
This little article will tell you the best ways to dress up tremendous and grab praises from all around you. So, buckle up to explore the stylish version of yourself and rock your fashion style straight away.
Happily mix and match your charming and beautiful clothes that you have always cherished
Gone are the days when you wore matched clothes and accessories. The culture of contrast is here, and I more than love it. Floral dresses with denim jackets sound just right if you are up for a solo female trip this summer.
You can mix your other clothes up and come up with your own fashion ideas. Remember, original thinking is the best thinking. So, not only can you mix-match your dresses, but you can also embed new designs on your existing dress. For instance, the below lady has customised her dress in a classically innovative way that makes her naturally charming.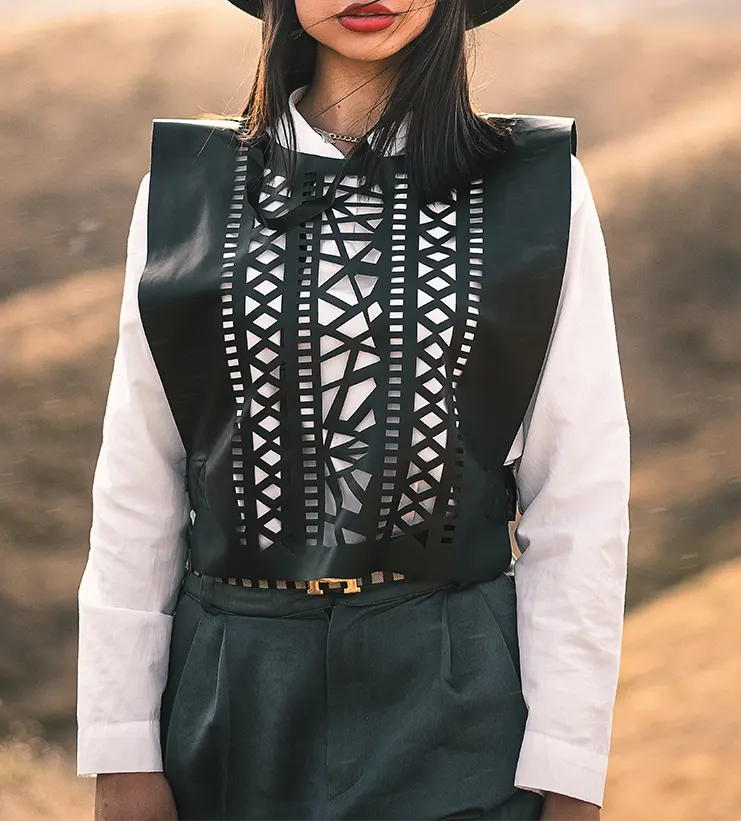 To look charming avoid buying low-quality fabrics
People quickly go for poor quality fabrics as they have limited knowledge about fabric materials. However, mature people know that poor quality fabrics come in the way to make you look charming.
Unless you find some solid reasons not to go for good-quality fabrics, you need to choose materials and fabrics of high quality. High-quality fabric need not have a high price! You can buy printed cotton fabric online from Chaturango that will make you look very, very charming.
Good-quality fabrics give you a stunning look, highlighting your beauty gracefully. If you are not sure how you get a good-quality fabric journey, here are a few suggestions.
Cambric cotton fabrics are some of the best quality fabrics. Cambric fabric is a natural fabric that is very beautiful, closely woven, durable, and lightweight. The dresses made of it are lovely. Browse these cambrics fabrics that will certainly make you more charming!
Handloom fabrics are one of the most sought-after fabrics. Indian handloom fabrics are generally made of pure cotton. The beautiful textures of the materials make mesmerising and stylish clothes. Here are some great handloom fabrics choices.
Printed cotton fabrics are also brilliant. With advanced printing technologies, printed cotton fabrics are a great choice. These are highly affordable too! Get the best-printed fabrics at the most affordable prices.
Chaturango is one of the newest online cotton fabric stores that offers handpicked cotton fabrics for Indian Kurtis and other dresses.

Wear your best comfort all the time, it is just for you!
If you want to restart wearing skirts, that would be a great idea! Skirts make one so charming that nothing else does so well.
Begin with the length you feel you are comfortable in. For example, in skirts, mature women look twice as charming as in other clothing items.
You can take one step at a time and begin your journey in a phased manner. For example, try a simple skirt with a simple top like the lady below.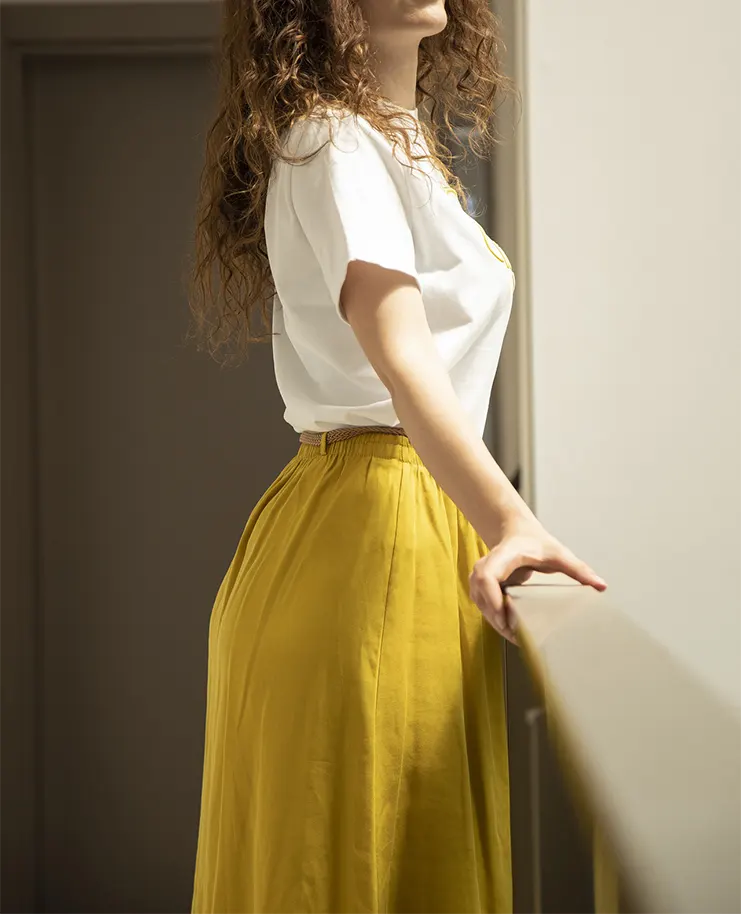 A simple attire will make you feel comfortable, which is one of the fundamental requirements for charming. Once you see that you are satisfied, you can try more innovative ideas. Find more about wearing skirts here.
As long as you are comfortable, I assure you, you would be more charming in any dress, hands down.
Don't shy away to maintain your composure
Your beauty is your composure. Your composure comes from the accomplishments in your life. You are brave and bold to make your own path.
Don't shy away to set a new trend in your life. Feel free to carry a handmade purse that gets everyone's attention and reveals why your charm is unique. Here are some select handmade purses for you.
Feel free to wear your brand new sunglasses. 14 or 40, it does not matter how old you are or where do you go. A sunglass hides your eyes while you can see others eyes. This immensely boosts personality and composure. Sunglasses also protect you from UV.
You can buy eyeglass and sunglass pouches online from genuine and curated style shops. But, most importantly, Please do not forget to wear a big smile on your face!
How to maintain a composed personality?
Mindfulness is one of the most fundamental traits of a composed personality. It means being alert and being present in the situation. It is natural for many of you, but for many others, this is not! Apart from being mindful, one needs to be a 'player' rather than a victim to the situation. Always be firm in doing the right thing and also be a good listener to others' opinions.
Wear trendy shoes
Every trendy cloth can be futile without an appropriate pair of shoes. In fact, you can instantly turn your boring clothes into fashionable clothing with the help of chic heels and boots. It does not matter how old you are; you can always wear what makes you feel charming and beautiful.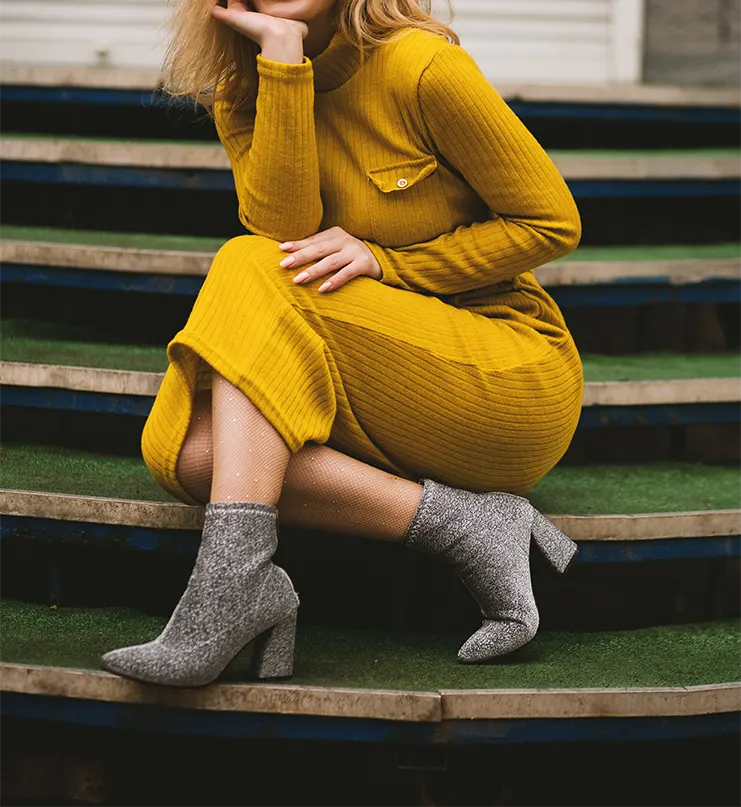 I personally prefer boots for women. Boots give a different kind of beauty by way of a remarkable combination of style statement and power. But you need to wear it properly. Here is a guide to wearing boots that will help you.
How to wear trendy shoes?
Make sure you wear shoes that suit both your personality and physique. You should feel comfortable. High heel shoes bend your feet from the ankle, stretch your leg a bit, and put additional pressure on your ankles and knees. But these are perfect for many girls and women. On the other hand, flat shoes can be comfortable for many women if they are too tight or pointy. Further, think carefully about whether or not your shoes suit the occasion. Some occasions have formal shoes as usual dress decorum.
Conclusion
How to look charming when you are 40?
1. Mix and match your charming clothes. Don't let the same look prevail all the time.
2. Wear dresses that you are comfortable with.
3. Buy good quality fabrics (you don't need to pay a lot for this)!
4. Wear trendy shoes
5. Maintain your composure
You are an empowered woman to decide what you want to wear. Free up your mind and set new trends for yourself and others who follow you. You are the owner of your life, and you are the one who will decide what to do in that life and what not.
So, feel the ease of mind to wear tight clothes, loose clothes, bright or dull clothes, and traditional or western clothes. Most importantly, feel happy and confident, which will make you look most charming. Make your bold decisions and trust me, you will win!
I will be eager to know your thoughts and if you agree that one can quickly look charming irrespective of age. Let me know your opinion about what one should do when they reach a mature age.